PMI - ACP EXAM PREPARATION
INSTRUCTOR-LED ONLINE LEARNING
Main Objective: Helping the learner to get PMP-ACP certificates with the below targets:
- Minimizing learning hours (It's 150 hours instead of 200 to 400 hours of self-study)
- Taking PMP-ACP certificates earlier and easier (Gain PMP-ACP certificates within 1.5 to 2 months instead of 3 to 4 months self-study)
Very useful: Being shared experiences of real project management from experts

Flexible: can learn PMP-ACP anywhere like office, home, coffee shop, etc.

Networking - cheerful: making more new friends, new classmates

Energetic: By participating in PMP-ACP class, you will have more motivation to short the time of taking the PMP-ACP exam and get PMP-ACP certificates easier (this is the most urgent factor to gain PMP-ACP certificates fastest)
Learning range:
Preparing and reviewing all knowledge and questions of PMI-ACP in order to help the learner to pass these exams for the first time.

Supplying soft copy learning materials

Supplying an E-learning account to help you making tests and fulfill the gaps of knowledge

Providing 21 contact hours for PMI-ACP exam (as the requirements of PMI)

Consulting and directing PMI-ACP examination processing
Online class time:
2 instructor-led online training in a week in the evening (From 8:30 pm to 10:30 pm)

Getting PMI-ACP certificate within 2,5 months
Learning techniques:
Learning online (on skype, zoom) plus watching videos.

Communicating and discussing with classmates and the trainer on skype anytime and anywhere.

Telephoning to the trainer (in the evening – when necessary).

Learning and completing the test on the E-learning site of

https://pass4sure.vn/
CONTENTS OF THE COURSE
Domain I. Agile Principles and Mindset

Domain II. Value-driven Delivery

Domain III. Stakeholder Engagement

Domain IV. Team Performance

Domain V. Adaptive Planning

Domain VI. Problem Detection and Resolution

Domain VII. Continuous Improvement (Product, Process, People)
The trainer: Mr. Hoang Sy Quy
21 years of experience in project management at many enterprises, software project management as standards of PMP, CMMI L5, Agile/ Scrum.

Over 15-year of experience in teaching and training PMP, Agile for internal and external customers.

Teaching for over 2,000 PMs comes from over 30 enterprises across Vietnam.
Class time
Online training time: 2 times a week (from 20:30 to 22:30) on Skype/ Zoom

The learner must spend at least 2 hours a day for self-study
Learners' Preparation:
PC or Laptop

High-speed Wi-Fi

Quiet space

Headphone (It's very important, it prevents noise while learning)
Supporting tools:
Skype or WebEx

Skype group (learner, the trainer will be added into each correlative class)

Communicating on Slack site

E-learning system at BitTrain.coach
Commitment from the learner:
Participating fully and on time all the online hours (enter the class 10 minutes before starting the lesson)

Spending amount of time every day to complete homework (It's about 1 or 2 hours a day – except online learning day and Sunday)

Making great efforts to reach the goal as well as participating fully in skype group learning to discuss and exchange knowledge together.

Having enough experience as PMI's requirements to take part in the PMI-ACP exam.

High school graduated

General project experience: at least 2.000 working hours in project teams – in the last 5 years.

Agile project experience: in the last 3 years with 1500 hours working with Agile/Scrum projects (8 months at least) – Note: this hour is not included in general project experience mentioned above)

Good English skills ~ TOEIC >= 550 score
PMI-ACP examination fee
Learning Outcome:
Certification from BitTrain for 21 contacts hours (Mandatory from PMI in order to take PMI-ACP Exam)

Take and pass the PMI-ACP at the first try after 2.5 months
Q & A
Question 1: Is BitTrain authorized by PMI? I do not see your organization named in ATM of PMI?
Ans: Hello. The training course PMP/ PMI-ACP and deliver 35 or 21 contact hours do not depend on the ATP of PMI. The most important thing here is the quality of the training course and how do you get the PMP certificate in a short time at minimum cost. You can see the reviews of our learners at https://www.facebook.com/bittrain.coach/reviews/?ref=page_internal or our prestige in the project management community to know deeper about BitTrain.
Question 2: What certificate can the learner get after the course?
Ans: BitTrain will grant you a certificate of successfully training course with the sample below: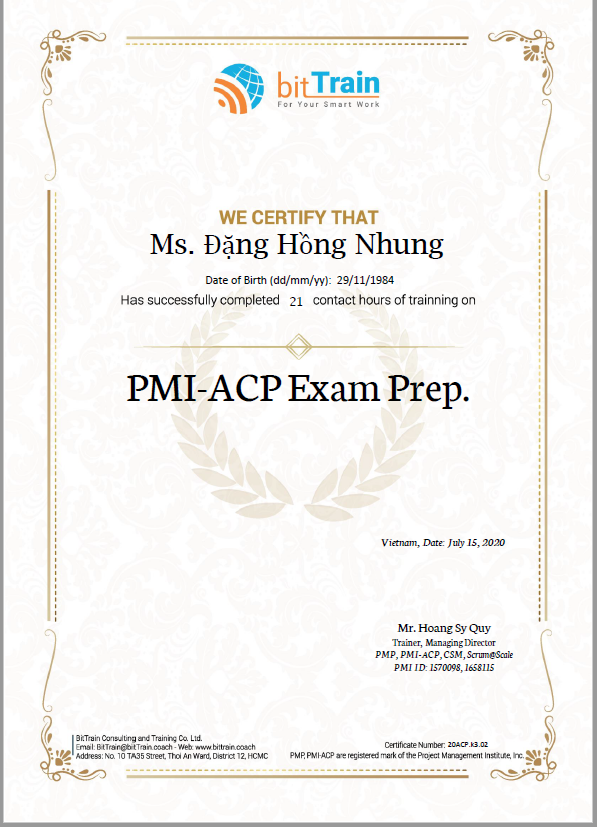 Question 3: Do PMP certificates only apply to people who are working in the project management industry only?
Nope. This certificate is used in many types of project management. We may be working on a project but we do not call it a project, that is a common thing.
Question 4: Which languages are the learning materials? Which learning materials are you using during the course?
The training materials are in English. The trainer teaches it in Vietnamese. The learning materials are PMBOK (PMP) and Agile (ACP)
Question 5: Can I get the content of each training material? Do you build a framework for the course?
Ans: Sorry. We can not send learning materials to you. We will send you the materials when you already complete your registration and become a member of a class. We ensure that you can learn all the knowledge of the PMBOK book. There are hundreds of our students who have passed the exam, so do not be worried at all.
Question 6: Do you have the library test for the learner?
Yes. We do have a library that's called E-learning where you can watch offline videos and do your tests with over 6,000 questions. Furthermore, you can fill your knowledge gaps by answering questions that the class's admin posts on the class's group every day.
Question 7: How can I pay for tuition fees? Are there any other processes after registering for the course?
Ans: You have to complete 2 steps of the registration
First step: BitTrain will send you the details of transferring
Second step: Submitting form, then we can add you to the class group on skype
Question 8: When is the deadline for the transfer?
Ans: The deadline for transferring is 3 days before the course. We need to set up a learning environment for learners. However, early transferring is encouraged.
If you need further information, please do not hesitate to contact Ms. Chau – Cell Phone No.: 0968890439.
Or directly calling for the trainer, Mr. Quy – Cellphone No.: 0908106080
Sincerely thanks!